It was nice to pull out the camera again after such a long hiatus. My parents took me to see an old railroad bridge across the Guadalupe River near Comfort, TX (GPS cords: 29°58'36'' N 98°50'45'' W). Anyway, here is a shot of the bridge from below: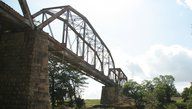 We had to contend with several "Road Closed" signs and "No Parking" signs in order to see the thing. There was one case where a sign said that the road was closed at a fork in the road, leaving it ambiguous as to which one we should take. Anyway, you can clearly see why the road was closed below: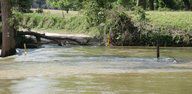 A tree down and about a foot of fast moving water over it. Don't think I would want to cross that. At least the designers of the bridge had the sense to build it much higher than the river so it was safe from the recent flooding.
---