Well, thanksgiving has now come and gone. I have spent so long trying to catch up on things that I missed from being out of town that it has taken me a while to get back to this blog. I still have to clean up my apartment this week sometime and a few other things before I am caught up.
I went to my parents' place over the weekend. My dad's parents joined us on Friday, and we celebrated Thanksgiving then. It is nice to see the place finally built. Here is a picture of it completed.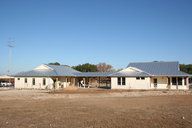 Now if only it would rain so the grass could grow.
I also got a nice picture of a sunrise (yes that is right, a sunrise. I was up early enough on the weekend to see it)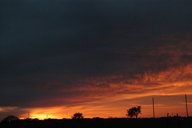 7:05 am. Why was I up so early? Well, when your room faces south, and you have no curtains, the sun can wake you up rather easily.
One of the last things that we did was go to enchanted rock. My dad and grandparents didn't feel like making the trek, so I convinced my mom to go up the little rock. It was far less crowded and still had a good view. We had never been up there, so it was worth the trip. The way back was interesting, because we didn't have a path to follow. We had to just make our way bit by bit. At the end, I couldn't resist getting this picture of what someone had done to the cactus.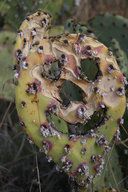 Maybe I should claim that I see a face in there :)
---