Well, I finally did it. I changed my cell phone provider. I switched to Sprint. There were a few reasons for this. One of the more notable is that they seem to cover my parents' place the best, and thus they changed as well. After my previous experience with Verizon, there was no way I would go back to them. In addition, there is the fact that they like to cripple their phones so you have to use (and pay) for their services instead of being able to use the capabilities they phone is supposed to have in order to sync with the computer.
Anyway, I got a Motorola Razr V3m. It works well enough for my purposes. I played around with the camera on it. It is amazing how lousy the image quality is (or maybe I am just used to far superior quality). I took a picture of the same item to compare. Sorry it is just a bunch of books, but it was the best detail I could get this late at night: Phone: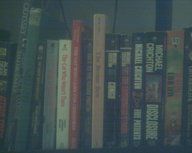 Camera: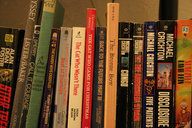 Quite the difference. I suppose it is just as well since I couldn't care less about a camera in my phone. At least I got the isync stuff working. This required a bit of hacking, but wasn't bad at all. Essentially, I just followed the directions on whopack. Although, the directions are a bit wrong, since plist files have the tags, such as key, string, array, dict, and true, in lower case, not upper case. Anyway, fixed the mistake on that site, and it worked just fine. Mostly I am happy that I now have a phone which will last longer than 15 minutes in talk time.
---