Last weekend, I went to visit my parents. On the drive down, I listed to the first two chapters of The Rookie (beware: not for children or those easily offended). I am listening to the next chapter as I write this. Started off well enough for one of Scott Sigler's novels. Can't wait to hear the rest.
Anyway, one of the reasons why I decided to visit my parents this weekend was the fact that my grandparents would be there also. On Saturday, we went to Lost Maples State Park. While we were there, I manged to get a picture of my dad with his parents. Not the best of pictures, but difficult to get better when one party doesn't like to cooperate. Here they are standing next to a rock formation that sort of looks like a giant mouth: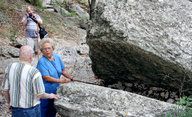 Anyway, now I am back in College Station, busy with school work again.
---