Well, I had the fun of teaching Chris how to do the live stream. I get the feeling that he may not be doing it very often. There is hope that I can pass it off to someone. We had a meeting of the internet/email team before breakaway itself. Basically, we discussed where breakaway is going in the future in respect to the internet. I also snapped some pictures while I was there. One was of Curtis trying to get the TV working: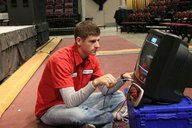 As you can see, it is not working yet. He didn't manage to fix it. It has a loose connection in there somewhere. Somebody is going to have to open it up with a soldering iron to actually fix the thing. I shot some random pictures, including this one: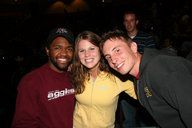 Three people enjoying themselves. The girl in the center wanted to be a part of a picture, so I let her enjoy the time.
Gregg had a good talk tonight. I am going to have to listen to it again. He had some good quotes too:
"You may date the wrong one in the right way" and "'Are you [girlfriend here] going to wear that?' It's great to learn lessons like that on the wrong one"
Later, I got an email message from Amanda saying that she was trying to watch the stream on a Windows 98 machine. She was trying to re-install quicktime, but couldn't find a version that didn't require 2000. I found one for her, but it is likely too late. I will likely just give her a copy of the files so that she can watch them at her leisure.
---